Whilst sorting through photos of MCM Expo last week I realised that I hadn't yet posted about the one I went to in November and also my hometown con apart from a few photos I had
posted on Instagram
so I thought I would do a catch up post before my next visit to a con.
My hometown con has been bringing some really awesome people into our town and I was so excited to see that Supernatural star Alaina Huffman AKA Abaddon, Queen of Hell (and my heart) was there, there was also some guy called Crowley sitting next to her but who cares #TEAMABADDON!
I met quite a few of the Game of Thrones cast last year
but I think I fangirled the most when I met Roy Dotrice, seriously though he IS Game of Thrones, I absolutely love his narration of the books (even with the weird pronunciations) and I really hope he will narrate the rest when they come out, fun fact he played Wesley's dad in an episode of Angel once. I also got lucky that day and found Drogon in my Game of Thrones Funko blind box which was really awesome so I carried him round the rest of the day petting him and calling him my baby...
One of my favourite things at MCM is the cosplay, I have seen some really beautiful costumes there and everyone is so polite and friendly. The highlight of the day is the Star Wars parade which I always make sure to watch, little did I know at the time that Tom Felton was actually in one of those Stormtrooper outfits and if you haven't watched
Tom Felton Meets The Superfans
yet I highly recommend watching it!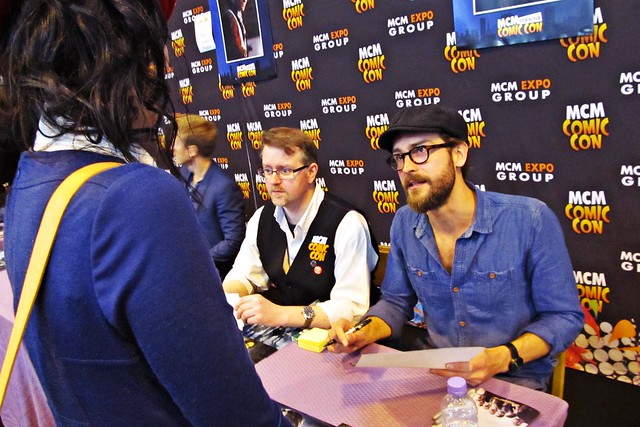 Last week was the first MCM of the year in Birmingham and to my surprise Tom Mison AKA Ichabod from Sleepy Hollow was there as well as Andrea, Noah and Rosita from The Walking Dead but as the queues were so long for The Walking Dead guests and I had already missed the panel (stupid traffic!) I decided just to meet Tom, who recognised my Agent Carter outfit right away which made me so happy as I didn't think many people would seeing as it hasn't been picked up for TV here (come on UK what are you doing!?), he also started singing Peggy at me in the photoshoot which made me giggle.
I had such a great time at all these cons and I love dressing up, so I think I'm all caught up in time for the next con now all I need to do is finish my outfit for it. Be sure to follow me on
Instagram
and
Twitter
as I always post my con updates and photos there first as well as cosplay outfits and progress.
When is your next con & what will you be wearing? Let me know in the comments